Important news about the opening of pubs!
It seems that the Health Protection Surveillance Centre (HPSC), which is part of the HSE, sort of offered a Covid-19 deal and we can only assume/hope that this was discussed with Mr Corona.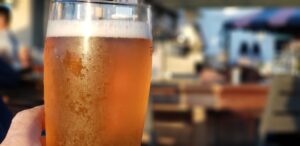 The deal is that from 29 June, you will be safe at a 1 meter distance in a pub, as long as you don't stay longer than 90 minutes.
Indications are that from Minute 91 things get really dangerous!
If we don't agree to the 90 min deal and we want to stay, say 120 minutes, then the 1 meter deal is off the table and all will go back to 2 metres.
It also seems that if you are not in a pub, you are still in severe danger if the distance to another person is less than 2 meters, no matter how long you meet. Even if you don't even face the other person and your encounter only lasts a few seconds! Safety outside of pubs (for example in busses) can be achieved with face masks but the 1 meter distance is not applicable there. 2 metres is the minimum (in nearly empty busses.) The deal ONLY applies to pubs!
It also emerged that the Coronavirus can be kept at bay if you eat a meal in a pub for at least EUR 9. If your meal is cheaper than that you are in danger and if you don't order a meal in the pub at all, you are in mortal danger, so much so that you are not even allowed to enter the pub. It seems though, that there will be no meal supervision, so you are not forced to EAT the meal, you just need to order it. Once ordered (for more than EUR 9!), the virus will know that and will leave you alone.
P.S. Without a doubt, our authorities clearly know what they are doing and have thought it all through!