Funerals during the Covid-19 period have been exceptionally brutal! It is bad enough that a LOT of people died and many people suddenly lost their elderly family members, but it is just inhumane to ban the friends and relatives from saying their Good-byes.
During the peak times of Covid-19 only 10 people were allowed to attend a funeral. It is crazy that that rule was put out there and even worse that it was enforced (there is a good chance that there is NO law about it, but that is only a recommendation, but I didn't check this out) by the churches and funeral locations.
Imagine a HUGE church where 2m distance is no problem even if 50 people are in it and after that a HUGE cemetery where even 10m distance would be no problem, but only 10 people are allowed. Total nonsense and in Ireland we have to thank the NPHET (National Public Health Emergency Team) for that brutal and unjustifiable rule!
On 29 June, in Phase 3 of the getting-back-to-normally plan, this 10 people limit had been removed, but a 2m physical distance rule is still in place.
In Northern Ireland the limitation were similar and for funerals the limits are depending on the size of the indoor venue and at the graveside a clear limit of 30 people is described on www.nidirect.gov.uk/articles/coronavirus-covid-19-regulations-guidance-and-what-they-mean-you and a screen shot, taken on 03 July is included below.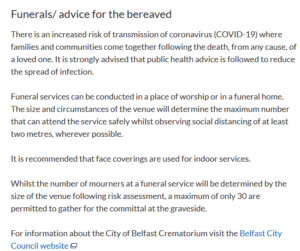 Also, there is a physical distance requirement of 2m.
This is also described in the interim guidance notes for funeral directors from 02 July 2020 at www.health-ni.gov.uk/sites/default/files/publications/health/interim-guidance-for-funeral-directors.pdf
"It is permissible for funeral services to be conducted in a place of worship or in a funeral home. The size and circumstances of the venue will determine the maximum number that can attend the service safely whilst observing social distancing of at least 2 metres, wherever possible. It is recommended that Funeral Directors liaise with the relevant officiant, clergy or venue manager to determine the maximum number that can be accommodated at the venue. This information should be communicated to the bereaved family when making the normal funeral arrangements."
and
"Whilst the number of mourners at a funeral service will be determined by the size of the venue following risk assessment, a maximum of only 30 are permitted to gather for the committal at the graveside or at the front of the City of Belfast Crematorium."
I want to repeat that I think some aspects of all these rules are arbitrary and don't make sense and I am not defending the rules in the slightest. But they are the rules made by the authorities and the rules are VERY VERY clear. Now, you would think that maybe you and me have a slightly more liberal interpretation of these rules or might even break some occasionally, but the people that make the rules, i.e. the people in power, should – nonsensical or not – stick to them STRICTLY.
But then a Sinn Fein member dies in Northern Ireland, where Sinn Fein is in the power sharing government with the Unionists with Arlene Foster as First Minister and Sinn Féin's Michelle O'Neill as deputy first minister.
That same Michelle O'Neill went to the funeral of the Sinn Fein member and got in a LOT of hot water – deservedly! Because the Deputy First Minister of Northern Ireland decided to ignore the rules her "Northern Ireland Executive" made the rest of the country stick to.
A classic case of "Do as I say, not as I do"!
O'Neill claims that she did not break any rules, but have a look at the pictures that emerged here www.rte.ie/news/ireland/2020/0701/1150731-northern-ireland/
2m distance? Not a chance!
And it gets better! The same article on RTE.ie shows a picture of the graveside where a max of 30 people is allowed: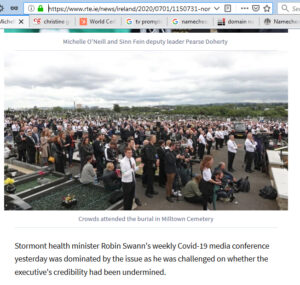 We can definitely see that O'Neill's assurance
"If the regulations had prevented me from attending his funeral I would have obeyed those regulations, at the funeral and mass I kept to the regulations, as I have advised others to do."
are correct. NOT!