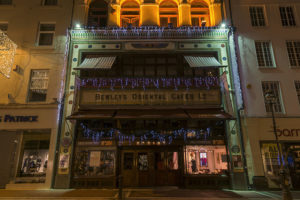 Bewley's Cafe will close for good, we found out on 06 May and soon the chorus of "greedy landlord" started together with the wish to save Bewley's cafe.
But as so often there are some facts that are not clearly obvious that need to be considered:
In a starring role, there is developer and landlord Johnny Ronan and the other main actors are the Campbell Family, who own the Bewley's Cafes and Campbell Catering.
Johnny Ronan is a hugely successful developer, who has his fingers in nearly all relevant property pies in Dublin. He went down in 2008 and was bailed out by NAMA – or rather by all of us Irish tax payers – and he has recovered like Phoenix from the ashes afterwards. Kudos for his regained success, but it is difficult to "like" someone like that who is only able to make his huge personal gains again because we paid his significant debts. And I would also not be surprised if the tag "greedy" might be totally justified.
Johnny Ronan bought Bewley's Cafe in Grafton Street from Royal Liver a few years ago and is renting it to the Campbell family for allegedly 1.5mio per year. And it is the public's opinion that it is this massive rent cost that is the reason for the Bewley's Cafe closure and because we all seem to love the national treasure that Bewley's Cafe is seen as – although many of us would NEVER go there for their cofe and pastries! – the conclusion is Landlord = Bad, Tenant = Good!
Not exactly the truth, though!
So what is the real picture:
The Bewley's family started the Bewley's company in 1840 and they opened the Cafe in Grafton Street in 1927. They bought the building at some point and owned it. Campbell Catering bought struggling Bewley's at the end of the 1980s and consequently they owned the building in Grafton Street then and that is where the trouble starts.
To get some money into the company, in their wisdom, the Campbell family decided to sell the Grafton St building and lease it back. It is a silly accounting "trick" that gets you cash in the short term, but ignores that you will pay a big rent over the years, especially if the location is such a prime spot in the main city centre shopping area.
In 2007 then there was a rent review and it seems that the Campbell family was ok with 1.5 mio, but the story continues. Just two years before the rent review Bewley's closed for a while (they seemed to have done this a number of time in the last few years) and during that time allegedly Zara offered a yearly rent of EUR 2 mio. Not sure if they would have been allowed to do that, but Campbell could have continued paying the rent of 1.5 mio to the landlord and on the other side take 2 mio from Zara. BUT Campbell was not interested in that offer.
The landlord even offered them then 6 mio if they got out! But Campbell was still not interested.
In 2014 Bewley's closed again for renovation and it remained closed for nearly three (!!) years and a whopping 12 mio was spent on the internal works to turn it from a 180 seat cafe to a 500 seat cafe. (I wrote about the challenge back then www.joergsteegmueller.com/2017/11/03/bewleys-cafe-has-re-opened-but-will-it-work/).
So you see that the landlord (Johnny Ronan or his company Ickendel) doesn't deserve any medals for anything they did, but they also are not really the reason why Campbell is closing the Cafe now. Campbell made a number of decisions over the years that could have helped them to leave the seemingly unmanageable burden behind, but they decided against it.
The final decision now is solely Campbell's responsibility and there is no justification for a "Save Bewley's campaign" or anything like that. It is pity that Bewley's Cafe will close, it was an icon in Dublin and will be missed, but I haven't been in there for many many years, so I didn't help to keep it open and therefore I can't complain. I just hope that no Starbucks will move in! We have more than enough of them! :-O
This article outlines some parts of the story:
www.irishtimes.com/business/commercial-property/row-tied-to-20-year-lease-agreed-when-bewley-s-sold-grafton-street-to-raise-cash-1.1852021
(The title picture is licensed under the Creative Commons Attribution 2.0 Generic license and it was taken by Miguel Mendez.)