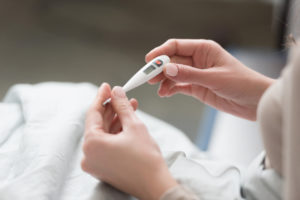 The amount of nonsense that is communicated about Covid-19 and what should be done with or against it is just astonishing. And interestingly that is not limited to Social Media channels, or people's own opinions but includes other media and even Government announcements and policies.
In this post I will attempt to analyse a few of the misconceptions, misinterpretations and confusing nonsense, but I expect that this is only one of a few posts. There sis just too much dodgy information out there to pack all in one post.
Social Distancing – Where do the 2 meters come from?
The concept of social distancing was created to avoid infection by droplet. As long as experts thought that the main infection route is through droplets that are more or less spat out while sneezing, coughing or talking, they also thought that staying away from each other would reduce the risk sufficiently to be save.
But bit by bit, we found out that an additional infection route is through aerosolised virus in the air in enclosed spaces. And now the expectation is that around 10% (only!) of infections happen through touch and then transfer of the virus to the nose, mouth or eyes. 40-45% through droplets and the rest aerosol. So in comparison to the beginning, we now have a completely changed understanding of the transfer. And it also looks like our mad washing of your hands, might have been a little over the top!
The distance between two people protects against droplets because these droplets fly a certain distance before they drop down on the ground. But it is very very strange that in different countries the droplets seem to travel different distances!
Here are the distance rules for different countries:
WHO: 1m
Hongkong: 1m
Austria: 1m
Italy: 1m
Spain: 1.5m
Germany: 1.5m
USA: 6ft (1.82m)
UK: 6ft (1.82m)
Ireland: 2m
Do you see anything odd? Yep, Hongkong and Austria (and as far as I know also Norway and Sweden), who all had relatively low death rates followed the WHO advise and the 1m distance was perfectly fine. Germany, also with a low death rate, pushed it to 1.5m. But for some inexplicable reason the droplets seem to fly MUCH further in Ireland.
Can we trust our scientists and doctors and politicians if they overexaggerate already with that simple issue?
Ireland got away lightly
Not so! Don't be fooled by a relatively low number of deaths in Ireland. You always have to compare the number of deaths with the amount of people in a country. (Not with the number of infections, because that number depends on how good you test!). And compared to the population, Ireland is at the time of writing this No. 8 in the list of European states. Sure, that is better than in the top 5, but 8th is much higher than many – who just look at comparison of the Irish 1500 death with maybe the UK's 34,000 – would expect.
Ireland did actually not do too well. And definitely not as well as DOUBLE the distance for Social Distancing in comparison, should have achieved.
Temperature Check in future
One of the ideas for the re-opening of society is that every time you enter your work place or an restaurant or other enclosed spaces, your temperature should be checked and if it is below 37.5 degrees you are good to go in and if it is above that, you will be rejected.
The HSE on their current website "A high temperature or fever, for most people, is when your body temperature is 38C or higher. This can be a sign that you are unwell. It usually means you have an infection such as a cold." The NHS in the UK says "A fever is usually when your body temperature is 37.8C or higher. You may feel warm, cold or shivery."
So going by this, both assume that 37.5 is not fever yet. We also know that some people never have a raised temperature even when they are sick and other people have temperature fluctuations even when they are not sick.
As a result the "cold" people would be allowed in even if they were Covid-19 infected and the "hot" people would be rejected even if they are perfectly healthy.
But even worse: The people with a temperature of 37.5 degrees of above will just get rejected at that place they wanted to enter. Nobody will tell them, hey, you should go home immediately and stay there for the next 2 weeks. No, they are free to try the next restaurant and the next one again and so on.
Temperature tests are an extremely weak route to "diagnose" infected people.
Flatten the curve vs "Let's finish the job"
In one of his many not-so-succesful attempts to motivate people to believe or trust him, The Health Minister Simon Harris said on 10 May "We got this – let's finish the job." This statement is in the face of a pandemic total nonsense. We can not "finish the job", because that implies that 'we can kill that virus'. That is not the case and interestingly was never planned! All the government wanted to achieve was to "flatten the curve". And THAT was achieved. This graph gives an indication and it is also in a tweet by Simon Harris. twitter.com/SimonHarrisTD/status/1260882652439207936
Now that the curve is flat and ICU beds are available, we have to allow new infections, not panic when they happen.
There are even people at the moment that wait for the day when the number of deaths that is still announced on daily basis will got to ZERO. People, that can't happen! Every day people will die and some will die of pneumonia.