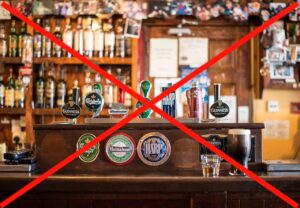 The news is out and it is not good!
Pubs will stay closed for AT LEAST another four weeks until 31 August and – let's face it – it is highly unlikely that anything significant will change in the next three weeks, considering the worldwide Covid situation. So who knows until when they will stay closed.
This obviously also has a significant impact on any live entertainment going forward and will not only leave pub owners and employees in a challenging situation, but will be devastating news for all the musicians that we have in Ireland.
A curfew for restaurants and pubs serving food of 23:00 was introduced as well (takeaways are allowed to stay open longer) and face masks will be mandatory in shops from 10 August.
And if you were hoping that there will be SOME good news elsewhere….not so!
Malta, Cyprus, Gibraltar, San Marino and Monaco were taken off the green list and seemingly no other countries were added.
The limits for crowds will also stay in place: 50 for indoor events and 200 for outdoor events.
———
And ALL this while we currently only have 448 cases of reported Covid infections in Ireland. If we multiply this by 10 to catch non-reported infections, then we have in the whole country just 4480 active cases. If we assume a population of 4,921,500, you need to meet 1098 (!!) people before you meet ONE Covid sufferer. ?
Can we survive another while without pubs? Sure we can if we have to! But looking at how public health policy is made at the moment, the makers of the rules seem to believe in the fairy tale that Ireland can eradicate the Coronavirus. Does that sound likely to you? What is your guess, when will pubs open? And will we have to cancel Christmas?
(Clarification: The number 448 is the sum of all cases that were reported in the last 14 days and is therefore the number of the cases that can assumed to be still active.)