Ireland's Taoiseach Leo Varadkar was in the USA for the Taoiseach's yearly St. Patrick's Day visit and he was invited to take part in the St, Patrick's Day Parade with his partner. Since a few years ago Varadkar had declared that he is gay (it seems that his partner lives in the USA), it was not surprising that he mentioned in an interview the fact that he was marching in the New York St. Patrick's Day parade with his partner was a sign of change and great diversity.
RTE News wrote about it here.
But he got that completely wrong! The parade organisers banned LGBT groups in the past, but since Varadkar was not walking in the parade as a representative of any LGBT group or under an LGBT banner, his walking in the parade can NOT be interpreted as a "sign of change" at all.
We can clearly see in this picture from the above RTE News article, that he was not part of ANY LGBT group in the parade: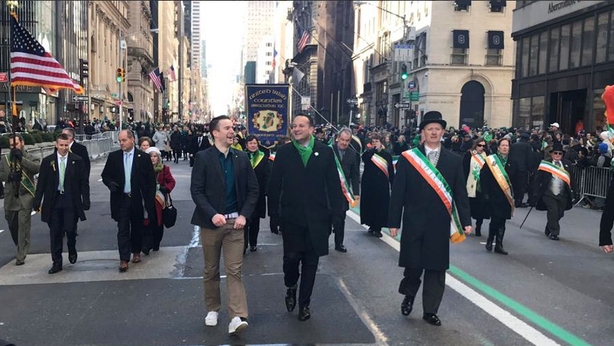 Without a doubt he is not the first gay person who is walking in the parade! And his private preferences were not the reason for his presence in the parade. Consequently, however, his admission to the parade also doesn't indicate that the organisers have changed their opinion about LGBT groups.
Odd how in his opinion 2 plus 2 results in 6.